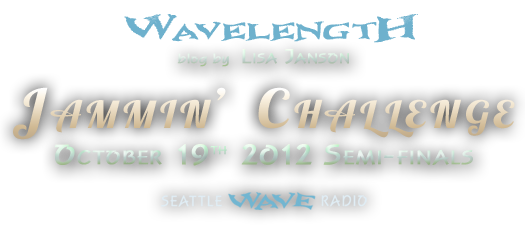 Saturday, October 20, 2012
Lisa Janson
After the last challenge I didn't think this show could get any better, but I was wrong. Jammin Challenge 2 was a high-energy event — with incredible performers, and an amazing audience.

Matthew Meadows opened the show, and he is an incredible artist, but it seemed like he was having a bad night. Even though he was a not on the top of his game I still enjoyed his creative performance, and would go see him perform again.
http://www.reverbnation.com/matthewmeadows

Although the evening's competition started off a little slow, the next artist got the whole crowd out of their seats.

Andrea Desmond was electrifying. As soon as she started to sing, people went right up to the stage. They were dancing and singing along throughout her entire set. For her small stature she had an enormous voice. She never stopped smiling, which gave her an incredible stage presence. She engaged with the audience even asking the crowd, "Who wants a kiss?" as she threw Hershey Kisses out into the audience.
http://www.andreadesmond.com

Silver Bullet was captivating. You could tell by watching them they loved performing! Their sound was phenomenal and at one point I would compare James Teixeira, the lead singer's, voice to Aerosmith. They had a great sense of humor, and James told the audience, "We practice the hell out of that song. Sometimes it just doesn't come out right." Silver Bullet was unforgettable, and if you ever get the chance to watch them live don't miss it.
https://www.facebook.com/silverbulletband

Jammin' Challenge 2012 semi-final 2 ended with Jordan Lake, which competed the night for me. Jordan Lake sang, played the piano, guitar, and one of his band members played the violin giving his songs a diverse sound. His voice blew me away, so it was no surprise that he has been on 11 different TV shows, such as MTV, VH1, and HBO. His drummer was not on the right beat, which caused Jordan to lose points for the Jammin' Challenge. Other than that he put on a fantastic performance.
https://www.facebook.com/jordanlakemusic

All the bands were so different — making this a well-rounded show. After judges deliberated and the ballets were counted Silver Bullet and Andrea Desmond won the evening's vote, so they will be going on to the final round. You do not want to miss the final round.

The Finale will be at the Hard Rock Café on Thursday 11/29 and it's going to have some tough competition.

Purchase your show Tickets for the Jammin' Challenge Finale here:
http://2012jamminchallenge.eventbrite.com.

The Jammin' Challenge 2012 Finale is part of the Holiday TweetDrive 2012 which is a benefit event for Treehouse produced by Seattle Wave Radio and MySeattleNightOut.com.