Campfire OK
at Neumos on Capitol Hill
Thursday, December 13, 2012
Brienna McWade
After making quite a splash on the Bumbershoot scene in 2011, CampfireOK has picked up a considerable following and performed their latest show at Neumos on Capitol Hill this past week where they debuted several new songs. Watch for more updates on their new singles and upcoming shows in 2013.

I had high expectations of this show as a result of the never ending press behind this band.  After reading them on lists of top Seattle bands to see since 2010 as well as hype from KEXP warning Fleet Foxes to look out, a positive note from NPR and CampfireOK hijacking the flagship Nordstrom piano only to be invited back to play again, I felt the bar had been raised, perhaps impossibly too high.

As a rule, I'm very wary of overhyped bands because it is rare that a band can ever live up to that kind of media attention with music being so subjective. It got me thinking about what bands are facing these days: in a culture where anyone and everyone can and does have something to say about everything, I can't imagine the challenging time it is for bands when social media must play a role in your success.

The anxious anticipation of the crowd from the night at Neumos was giving me a clear indicator that this group has indeed picked up steam and along with it, a gaggle of adoring fans. Girls in tight skirts wielding smartphones like a magic wand were clamoring to be the closest to the stage, and maybe more accurately, front man Mychal Cohen, with hopes of getting the perfect photo to share with their "friends" and "followers." Photojournalists were fighting for a perfect close-up location among the concert goers in a way that I have yet to see play out for any of the other bands I've seen and covered.

Bar. Raised. Higher.

A grinning and likable Mychal took the stage to shouts of "I love you!" and compliments on his hair – no different than what you might expect from a high school audience at an all-ages concert. Clearly, I was in for the show of a lifetime…

Thankfully, the stage presence of CampfireOK seemed to live up to the media hype. Eating up the attention, the band played to the audience, and as I'd later realize, find true success in the live participation that the audience offers.  Upbeat, fun and with lots of dancing, clapping and overall body movement, this was a party. Several new songs were promised, yet the crowd got their familiar sing-alongs. This was a good show and I liked it a lot.

Perhaps I got too caught up in the live stage dynamic, because the disappointment in their recorded album is unshakable. What I heard on stage did not match the dramatic and subdued sound of their CD and I struggle to hear it as the same band. While their recorded sound could be any number of a dozen Seattle bands, this is not the sound that will set CampfireOK apart and rocket them to the stardom they could be destined for.

I do like this band and I do recommend you see them but stick to the live shows. You may be disappointed otherwise.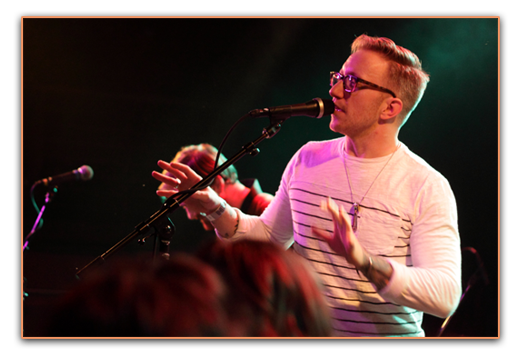 Photo by Brienna McWade