Roots & Branches CD release
Columbia City Theater
Thursday, December 13, 2012
Brienna McWade
For fans of the annual NW Follklife Festival, this past weekend showcased a variety of artists who are featured on the 4th volume of Folklife's Roots & Branches CD. Although I attend the annual Folklife Festival, it was a step out of the norm for me to see these acts play indoors in such a setting. I can't tell you how fun and inspiring it was to see the different genre's perform and give insight to culture from around the globe.

The Roots & Branches Vol 4 album was released on Saturday, December 15th as part of a Winter Celebration hosted at Columbia City Theater. This intimate stage setting is a great venue for any musician and is a great place to see a show if you haven't yet made a point to get there. The Roots & Branches Vol 4 album can be purchased on the NW Folklife Festival website. Order before December 20th and get free shipping! It, as well as the previous volumes can also be purchased on ITunes. First up, Eleanor Murray offered up a haunting folk styling. Her lyrics and performance is seemingly subtle at first listen but the beauty lies in the conjured images of sorrow and despair that can be felt in your heart. I'm a sucker for a singer/songwriter who knows their way around a guitar and Murray fits the bill.  Check her out live in her Olympia, WA hometown on December 19 and 21st. Hear more of Murray and get info on her tour dates on her website.

Next on stage was the Irish Gaelic chants and storytelling of Brian O'hAirt. The shift in genres was a bit of a curve ball but the rich historic aspect O hAirt brings is hard to ignore. While maybe not a standard expectation of Seattle nightlife, he had the crowd on their feet for jigs with one song while singing along the choruses to others. No stranger to the stage, O'hAirt is lead vocalist of Irish band Bua and is an accomplished Irish singer who's won awards and travelled across the US and globally to share his craft, even singing for the President of Ireland. His act felt very symbolic of what the NW Folklife festival has always been to me – learning about other cultures that are not always at the forefront of our entertainment scene.

Taking yet another drastic musical turn, the next act taking the stage and also featured in Roots & Branches Vol 4 was "alt-country" Joy Mills Band.  Having known a previous drummer for this group, I was familiar with their recorded sound, yet this was the first time I'd seen them live. The energy this group delivered was a nice change-up for a cold, blustery December night with people barely able to stay still and many taking the dance floor to move to the rock-country sound. Having been likened to Niko Case, Mills and her band have been recognized across the country and in the UK for her smooth vocals, stirring storytelling and overall talent as a Seattle singer/songwriter. This band does not disappoint. See them next at the Sunset Tavern in February with the promise of new songs for 2013. Last but certainly not least was a band whose music was completely foreign to me – Nu Klezmer Army. As I quickly Googled the band style to learn about the klezmer music styling, I had no idea what I was in store for. With a 6 person band filled with multiple drums, a clarinet, fiddle, stand-up bass and accordion, I was curious for them to start. Their rousing first number was an upbeat instrumental that had many clapping and stomping to the beat, while others seemed to stare in awe at the big bright sounds coming from the stage. As a party and celebratory music that dates back centuries for the Jewish culture, it's hard to put into words what you can expect from this band, but I can best say that it's loud, fun and most entertaining to watch – to say the least. My mind kept jumping to amusement park and carousel music but also to something you'd hear as a dramatic movie score. It's best left to say that you owe it to your musical interest to see them live at The Josephine in Ballard next month and see for yourself.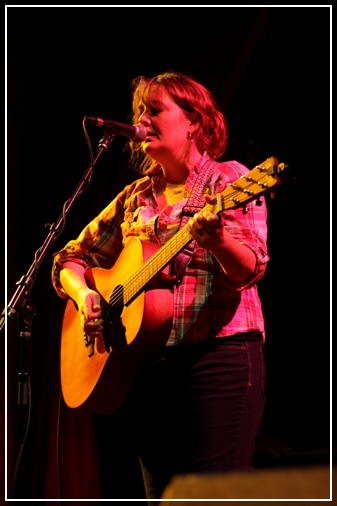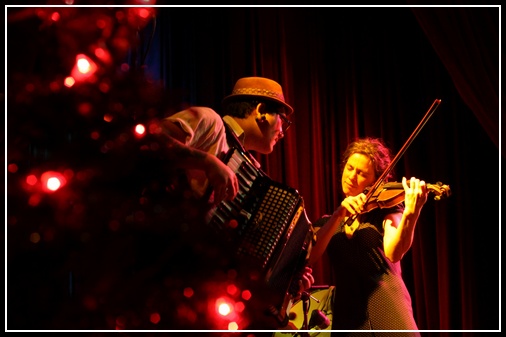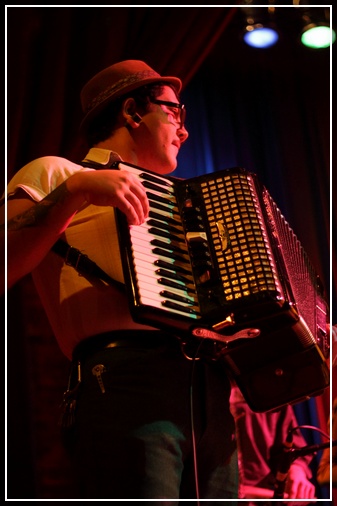 Photo by Brienna McWade