Seattle WAVE Radio
Location & Contact:
Email Us
Seattle WAVE Radio Website
Be a Fan on our Facebook page
Enjoy our Conversations on Twitter~follow us!
Add us to your Google+ Circles
Description:
Bringing you the freshest, newest music in Seattle 24/7 on 5 different channels. Listen to us on our web-player and on our mobile apps.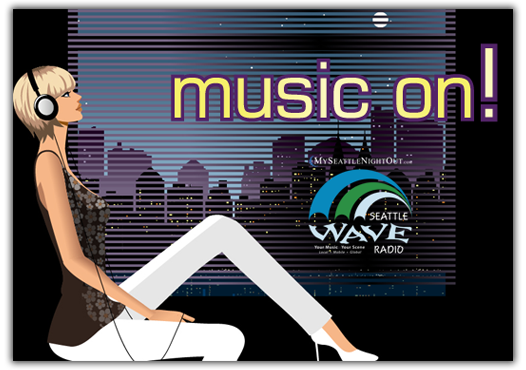 The Future of Radio is NOW!
Local ~ Mobile ~ Global
Specials/Events
Seattle WAVE Radio
Every Thursday Friday Saturday
December 6, 2012 - December 26, 2013
At 9:00am - 10:00pm
One Gun Shy A special presentation with David Kosin interviewing Bobby, Chris, Steven, Nate…Read more
Cut The Bull Entertainment
Every Saturday
December 8, 2012 - December 28, 2013
At 9:00pm - 10:00pm
Al Walser's Weekly Top 20 is the World's #1 syndicated Radio Dance Countdown Show hosted by Hollyw…Read more
Cut The Bull Entertainment
Every Wednesday
December 12, 2012 - January 1, 2014
At 8:00pm - 9:00pm
Al Walser's Weekly Top 20 is the World's #1 syndicated Radio Dance Countdown Show hosted by Hollyw…Read more
Seattle WAVE Radio
Every Sunday Wednesday
At 7:00pm - 9:00pm
THE "ROCKON365's LEGENDS OF ROCK" IS A GREAT MIX OF NEW AND OLD SONGS BY YOUR FAVORITE CLASSIC RO…Read more
Seattle WAVE Radio
Every Saturday
At 11:00am - 1:00pm
THE "ROCKON365's LEGENDS OF ROCK" IS A GREAT MIX OF NEW AND OLD SONGS BY YOUR FAVORITE CLASSIC RO…Read more
Seattle WAVE Radio
Every Day
December 7, 2013 - January 2, 2014
At 8:00pm - 10:00pm
5th Annual Rockin' Christmas Our Yearly 2 Hour Show Of Christmas Songs Performed By Some Of The…Read more
Report incorrect information