Pet Pros
Location & Contact:
10505 Main Street
Bellevue, WA 98004
425-455-3797

15946 Redmond Way # 104
Redmond
,
WA
98052
(425) 556-1430
Email Us
Visit our website
Visit our other website
Description: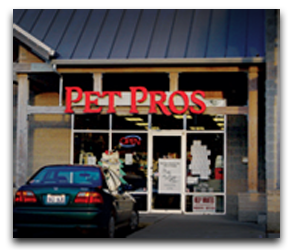 Pet Pros was founded in 1986 in Seattle, Washington. At that time, there was just one Pet Pros store located in North Seattle. Since then, Pet Pros has grown to 19 stores serving the Northwest with locations ranging from Snohomish to Bonney Lake in Washington and now recently opened in Clackamas, Oregon and Hillsboro, Oregon. More locations in Washington and Oregon coming soon. Pet Pros is now one of the largest independent pet supply retailers in the Northwest and we owe that all to our customers!

Pet Pros was founded on the notion that pet owners should have access to top quality pet food and supply choices, in convenient neighborhood locations. Pet Pros still delivers on that promise by offering one of the largest selections of premium healthy foods in the area along with a wonderful mix of quality supplies. This, combined with our neighborhood-style customer service, delivers a unique and fun shopping experience.

We believe Pet Pros' strength lies not in the ability to serve the masses, but to serve individuals in their neighborhood settings with a high level of customer service. We offer continuing education and training to our employees so that our customers have ready access to information they need to keep their pets happy and healthy. Our commitment to customer service keeps loyal customers returning year after year.

Click here for store locations and phone numbers.
Payment Options:
Cash, Credit
Report incorrect information